[et_pb_section bb_built="1″][et_pb_row][et_pb_column type="4_4″][et_pb_text]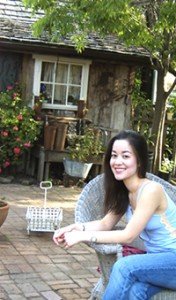 Rumor has it Céline was hatched on a rooftop in old Paris one cold January morning. She was then delivered to a dashing French gentleman and a beautiful Vietnamese lady, and that parentage pretty much guaranteed she'd be a dreamer and a romantic for the rest of her days.
Céline has been drawing for as long as she can remember, finding inspiration in just about anything, from manga to sculptures in the Musée du Louvre. She's also terribly fond of bookstores, fine Swiss chocolate, and all things purple, including but not limited to Victorian men's headgear.
This is her mission statement:
"It is my goal to create engaging and approachable character based fantasy art, drawing inspiration from mythology, fairy tales, comics, manga, and other artists whose work allowed me to dream in the first place. As an artist, I aim to explore relationships (with others and within oneself) through the lens of sensuality and emotion. As a human being, I hope that my vision of the world brings you strength, joy, comfort and a measure of playfulness."
A few of her favorite things:
Music:
Morcheeba, Guns N' Roses, Citizens & Saints, V.A.S.T, Katy Perry, Within Temptation, Ghost Ship, Texas, Mylène Farmer
Books:
"La Femme Fardée" Françoise Sagan,"The Sundered" Ruthanne Reid, "The Artist's Way" Julia Cameron, "Pride & Prejudice" Jane Austen, "It" Stephen King
Movies:
Le Fabuleux Destin d'Amélie Poulain, 28 Days Later, Gladiator, Ever After, that Captain America trilogy, Deadpool <3, Louis de Funès films
TV:
The Walking Dead, Buffy/Angel
Manga/Anime:
Dragonball and DBZ, Hellsing, Bastard!!, Saint Seiya, basically, old school shōnen.
Contact:
Email, Facebook, Instagram, Twitter.
[/et_pb_text][/et_pb_column][/et_pb_row][/et_pb_section]