☆Link to Purple Top Hat (dot) com
You can link to me at http://www.purpletophat.com, or by using these banners:



☆ Other artists, writers and people who create nifty things~
Some draw fairies, others draw comics. Some like their paintbrushes, others their Wacom tablets. Some type and write in long hand, others etch and wield sewing machines. All are quite fabulous.
Ruthanne is my site designer, and a fantasy author to look out for! She's currently crafting her first major series. Check her out so you can say you were there before her books hit the shelves. 🙂
☆Olga Ulanova
A lovely blend of manga, comics and Art Nouveau inspired styles, Olga's work is liquid elegance. Look out for adorable chibis while you're at it, she's a master in that particular genre 🙂
☆ Lisa Victoria

Lisa's art is graceful and playful. It has the heart of a child and always brings a smile to my face.
☆ Marsh Pants

This place is for you if you're a fan of ball jointed dolls! Marsh makes the hottest leather pants for all your dolls. Browse through the extensive range of fabrics, check out the galleries and order a pair today.
☆ Yaya Han

Yaya Han is a gorgeous model and cosplayer, and her talent in costume making has no parallel. Come see her photos, and maybe get yourself a pair of wings. 🙂
☆ Kit's Glass Etchings

Kit's glass work is nifty and wickedly appealing. Come check out the poison and wine bottles, stay and admire the clever designs.
☆ Lost Goat

Creepily cute or cutely creepy? I'm not sure which. It's all quite fascinating, so just follow that little goat, will you?
☆ Ericka Baque
Vampires, pirates, top hatted dandies, mermaids, romance, oh my!
☆ Giovanna Adams

Home of the beautiful and unique Faeries of Color, Giovanna's paintings calls to the romantic dreamer in me.
☆ Violent Belle
Violent Belle Designs' funky Victoriana and Japanese flair produce one of a kind mini top hats, hair clips, costume horns and more.
☆ Stephanie Law's Shadowscapes

Ethereal, delightful fantasy watercolors. A real treat for the eyes. Foxes everywhere.
☆ Aurore BlackCat
Gorgeous manga style art and comics. I want to be Aurore when I grow up.
☆ Selina Fenech

A cornucopia of beautiful pagan and fantasy art featuring fairies, goddesses, mermaids, angels…
☆ Amy Brown

Fairies! Fairies aplenty for every day of the week and every mood that may strike you, and beautiful watercolors.
☆ Jessica Galbreth's Enchanted Art
Oh, Magick!
☆ Liselotte Eriksson

Spunky, sexy, gothy art with a dark, unique twist.
☆ Natalia Pierandrei

Comic and fantasy art! Two things that I love, all wrapped up in a very distinctive, elegant style, and some serious Copic marker wizardry.
☆ Paulina Stuckey-Cassidy

Fanciful and whimsical fantasy art. So. Much. Fun. She draws the cutest little witches.
☆ Unique Stores
☆ Enchanted Deva's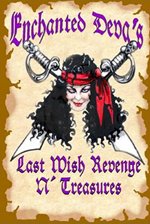 With Captain Krystal's sure hand manning the helm, this most extraordinary store will fulfill all your piratical dreams and more. When you're done checking out the fabulous decor, the clothes, the jewelry and assorted gift items, make sure to look inside the gallery. The store features one artist's work every month.
☆ The Goddess Store and Studio
Every woman has a goddess in her, or so will the owner and resident goddess Carmen tell you. A treasure trove of fine garments, jewelry and exotic curios, the Goddess Store also offers many fabulous classes in its Studio, from belly dance to flamenco… and pole dancing =D.
☆ More Inspiration
☆ Blond-Fish
Go listen to "This Beautiful Day", and find yourself floating away…
☆ More Inspiration
☆ Fantasy Artists Emerging

A most wonderful resource for fantasy artists. The forum is a great place to share tips and experience, get sound advice and critiques from your peers, both amateurs and professionals, and make friends!
☆ Fantasy Top 20 – Vote For Me!