My feature show at Enchanted Deva's is still ongoing! I had a wonderful time with my guests during opening night, and I'm sad to leave California before the show closes, but alas, home is calling me back. This doesn't mean you Californian visitors or residents cannot drop by for a visit. 😀 The show will only officially close on April 30th, so there's still time!
For those interested, once again, here is the show's info:
Enchanted Deva's
5050 Vineland Avenue
North Hollywood, CA 91601
Phone: (818) 980-3382
Tue-Sat: 2pm-6pm until April 30th.
You can also add the store on myspace:http://www.myspace.com/enchanteddevas
And here are some pictures!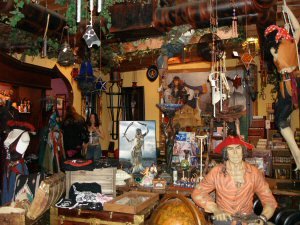 The inside of Enchanted Deva's… you know you want to go.
A view of my gallery. And yes, that top hatted person would be me.
In the gallery, chatting with guests. Bigger and better pictures are forthcoming (as well as new artwork…), but I hope you've enjoyed this little preview.