Summer is upon us and we have new stuff in the Shoppe today!
First, there are 4 new angel watercolor designs in the Note Cards section. I'd originally intented to paint one piece for Valentine's Day, but ideas kept coming, resulting in the Heart Suite: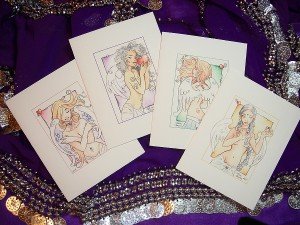 Second, another section has been opened for sketch prints. It wasn't until several people asked about my sketches that I realized I should probably put them up as well. And so I did. You can now find two of my favorite pieces in Sketches. Since they're black and white, they'll go for $10.00 apiece as opposed to $12.50.
The Links page has been updated as well. Check out the sites of artists Lost Goat and Lisa Victoria, as well as the Goddess Store and Enchanted Deva's myspace profile. I also have banners up if anyone wants to link to purpletophat.com.